Posted On March 8, 2017 By Brian Meehl
"The Grim Reaper Smiles on the Goal Posts"
(click on image for full view)
At the end of the deadly 1905 football season (18 players died; the 1903 season killed 25), the  above cartoon  reflected the public's view of football. Football, a game with its roots in an Ivy League ritual called "Bloody Monday," faced its own demise when President Teddy Roosevelt – doing the 1905 equivalent of Tweeting – raised his "big stick" and threatened to ban football if it didn't curb the violence killing the game and its players. How violent was it?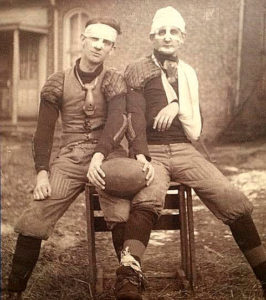 Back in the day, football was a 22-man cage fight with one rule: "Anything goes." Slugging, kicking, hair-pulling, dirt-flinging, "face-stomping," and "free-lunching" (biting), were all legal.
One thing that was illegal was the forward pass.
In 1906, of all the rule changes that were instituted to save football from its bloody march down the field to the "dead zone," was the legalization of the forward pass. But purists hated it. It would turn football players into sissies throwing the ball around like basketball players. To cripple the forward pass, the purists slapped incomplete passes with severe penalties.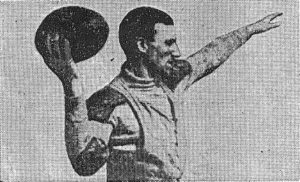 The first player to throw both an incomplete and complete pass in the 1906 season was Bradbury Robinson (right) of St. Louis University.
But the pass was still considered a freak play. Coach Pop Warner called it the "bastard" of football.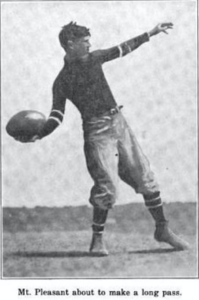 In 1907, the harshest penalties grounding the forward pass were lifted. Pop Warner, the "Old Fox" who coached the Carlisle Indians of the Carlisle Indian School, changed his tune when he saw that his quarterback, Frank Mt. Pleasant, (above) could throw the fat, rugby-style ball 50 yards. The first bomb in Pop's "air attack" – Mt. Pleasant to Albert Exendine! – was thrown on Sept. 28th.
On Oct. 26th, 1907, Pop Warner and the Indians debuted the revolutionary "single wing" formation (now called the "wildcat") against the mighty U Penn Quakers. The single wing created a kaleidoscope of possibilities: multiple backs able to receive the snap and run, handoff, pass, or kick. The Indians unfurling of the single wing and the first true "passing game" turned them into a soaring raptor that devoured the Quakers.
By 1905, football had descended into the fiery caldron of destruction. In 1907, with the launch of the passing game by the Carlisle Indians, football's Phoenix rose from the flames, and the modern game was born.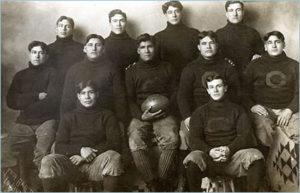 The Starting 11 for the 1907 Carlisle Indians
Back row (L-R): Hauser, Exendine, Afraid of a Bear, Gardner – Middle row (L-R): Payne, Aiken, Lubo (Captain), Little Boy, Wauseka – Front row (L-R): Hendricks, Mount Pleasant