Posted On November 2, 2016 By Brian Meehl
First all-Indian football team (1894)
First non-college team to play against and beat the Ivy Leagues
First to travel cross-country for a game (U. of California, 1899)
First to launch the passing game and the game-changing "single wing" (1907)
First to send scouts to spy on other teams in prep for games
First to call audibles, using Indian words unknown to opponents
First to use the fake punt, reverse, and screen pass
On Nov. 2, they bagged another "first" when they took on the Princeton Tigers at the New York Polo Grounds, home of baseball and football.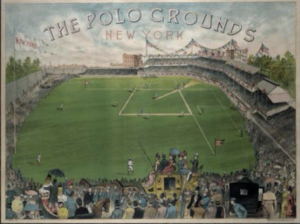 Despite torrential rain, 30,000 football fanatics crowded into the Polo Grounds to see Carlisle's dazzling new style of play. They witnessed the one thing the Indians' forward-passing and open-field running single wing couldn't defeat: the weather.
In monsoon rain and a field of mire, the Indians  (7-0) suffered their first defeat. The Tigers mud-mauled them, 16-0.
Next: Harvard, and a first of a very different color.