Posted On March 4, 2020 By Brian Meehl
Joseph Pujol (1857-1945). His stage name, Le Pétomane, comes from French, péter (to fart) and maniaque (maniac).
In real life, Pujol was an incredibly stand-up (and let loose) guy. At the Moulin Rouge in 1890s Paris, Le Pétomane became the highest paid entertainer in the world. In Blowback '94, he is both fabulous flatulist and father figure extraordinaire.
Le Pétomane's unique talent came from being able to suck air (and water) into his rectum and lower colon and exhale it like breath. Using his anus like a second set of vocal cords, he could create all manner of recognizable sounds, from animal impressions to playing his version of The Marseillaise.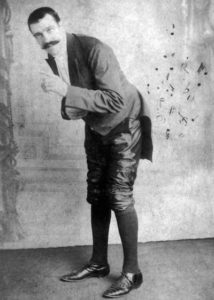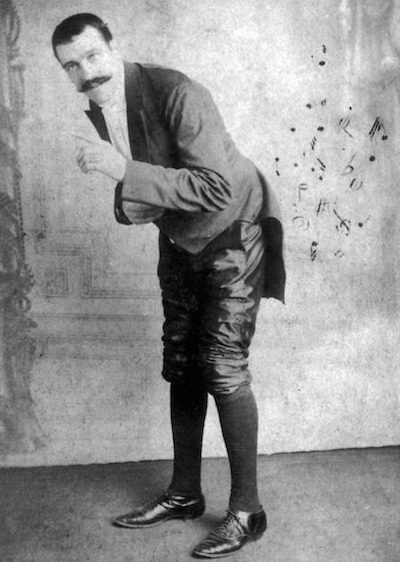 Like Buster Keaton, Le Pétomane was famous for his deadpan expression. He never laughed at his own telltale toots; it would have been the height of vulgarity. His audiences did all the laughing, sometimes dangerously. Nurses were employed to carry out ladies who laughed so hard they fainted. Legend has it that one man laughed so hard he had a heart attack and died. Le Pétomane killed.
His more risqué shows, "For Men Only," were performed in the belly of the Moulin Rouge elephant, where he wore a bathing costume with a flap in the back, so he could perform his most intimate tricks. (His act was made odorless via diligent enemas.)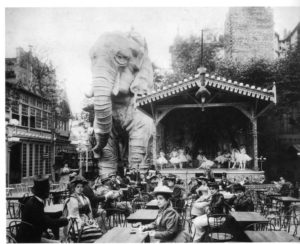 Le Pétomane's sensational run at the Moulin Rouge (1890-94) came to an end in a dispute with the manager, Joseph Oller. Oller was incensed by Pujol sampling some of his act in a park to draw customers to a friend selling gingerbread from a cart. Claiming that the Moulin Rouge owned Le Pétomane and his act (from stem to stern), Oller argued that Pujol had no right to give it away; he had breached his contract! Refusing to be bullied, Pujol declared, "You can't own the wind," and decreed, "I'm cutting off the gas!"
Pujol then built a traveling stage and took his show into the parks of Paris and to cities in Europe until 1914 and the outbreak of The Great War. After losing two sons in the war (Pujol had five children), he returned to his original trade, baking, opened cracker factories in Marseille, and thrived with his growing family. In 1945, as France was liberated at the end of World War II, at 88, the wind of Joseph Pujol was finally stilled.
At the height of his fame, Pujol had let doctors examine him to try and decipher the mysteries of his talent and measure his abilities. (He could inhale two quarts of air, and shoot water five meters.) One doctor published his findings as "An Extraordinary Case of Rectal Breathing and of a Musical Anus." But in death, Pujol's family, respecting their father's sense of decorum and privacy, declined requests to perform an autopsy to possibly discover the secret of Le Pétomane's anatomical genius. Pujol's oldest son, Louis, said it best. "There are some things in this life which must be treated with reverence."
The teenage character in Blowback '94, Arky Jongler, who is forced to work as Le Pétomane's assistant and is subjected to the breadth of Pujol's talent and temperament, reaches his own assessment of the man. "Pujol had not only been blessed with a double set of lungs, one north, one south, he also seemed to have a double-size heart."