Posted On February 27, 2020 By Brian Meehl
Oh, the things that went on in the belly of this beast! Especially after sundown. More often than not, the chamber inside the elephant (accessed by a staircase in a leg) was a luxurious opium den where gentleman were entertained by belly dancers.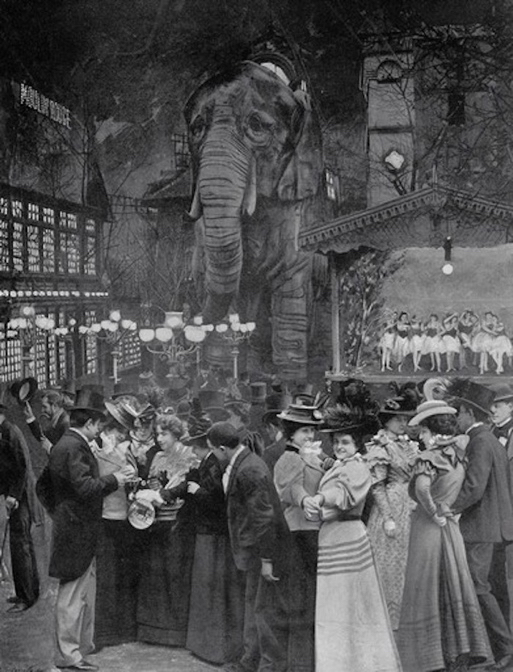 The chamber was also used as a small theater where Le Pétomane, the most scandalous performer the Moulin Rouge ever knew, shocked Parisians with his unique talent. The riotous and regal Le Pétomane (Joseph Pujol) plays a major role in my recent novel, Blowback '94.
In fact, the cupola atop the elephant is where Iris, the heroine of the Blowback Trilogy, arrives one foggy dawn in 1894 and begins her journey through the decadence and splendor of Belle Époque Paris.
How did an elephant end up in the courtyard of the Moulin Rouge? It was rescued by the Moulin Rouge owners from Paris's Universal Exhibition of 1889, which celebrated the 100-year anniversary of the French Revolution.
And what was the elephant made of? Its forty-foot-high wooden frame was covered in elephant hide made from stucco or, as some claim, paper mâché varnished to make it waterproof.
Still curious about the scandalous doings inside the fabled elephant? Check out Blowback '94 or keep an eye on this blog for…
LE PÉTOMANE